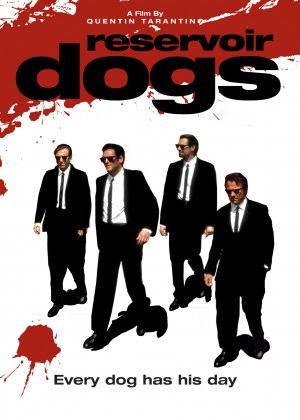 Fig. 1 Theatrical Poster

Famous for it's use of non-linear storytelling, this film is essentially the story of an armed robbery gone wrong. It opens with the main characters in a dinner just before commiting the heist, discussing Madonna's "like a virgin" over their meal. Most of the scene appears to be one continuous shot, with the camera circling the table; this is intercut with occasional closeups (Ebert, 1992). The scene ends with a slow-motion shot of them all walking in a group as the title music plays; care has been taken to ensure the rhythm of the music matches the visual rhythm of the charactors walk.
Fig. 2 Film Still
Immediately following the opening credits, the film jumps to the aftermath of the heist, with Mr White (
Harvey Kaitel
) driving a car with wounded Mr Orange (
Tim Roth
) in the back seat, clutching his belly
"as if to hold in his organs"
(Canby, 1992)
. Obviously something has gone wrong, but Tarantino doesn't reveal what immediately. Instead, Mr White takes Mr Orange to the pre-arranged meeting place (an abandoned mortician's warehouse, where the majority of the film takes place) and the plot is only revealed as the surviving members of the gang arrive - as each gang member arrives, there is a short vignette showing part of there involvement in the robbery: Mr Pink's arrival comes with a flashback to the immediate aftermath of the crime, as he describes how he escaped from the scene of the crime; Mr Blonde's scene depicts his induction into the plot following his release from prison; Mr Orange (immediately following the revelation that he is an undercover policeman) shows his training for the role and infiltration of the gang.
A curious feature of the film is its timelessness; as Empire reviewer Jeff Dawson points out,
"there are few contemporary reference points, the gang sports caricatured 60s Blues Brothers garb, and proceedings are underscored magnificently by a golden oldie radio station pumping out a series of bubblegum hits from the 70s."
(Dawson, 1992).
This timelessness paradoxically helps to keep the film feeling contemporary by forcing the audience to concentrate upon the characters rather than the scenery (although the few scenes with a mobile phone do date it). This focus on character is assisted by the absence of the actual heist; by removing the most action-packed scene the audience is more tightly focussed upon the small moments of violence as they occur throughout the film, culminating in a tense mexican standoff, compared by some critics to the climax of
For A Few Dollars More
and
The Good, The Bad and The Ugly (McCarthy, 1992)
Fig. 3 Film Still
List of Illustrations
Bibliography