As a Neo-Noir film, it's hard to say whether
Blade Runner
is a science-fiction film made using Film Noir Techniques, or a (relatively) modern Film Noir that just happens to be set in the future. Perhaps its a combination of both; as Roger Ebert says, "...Film Noir is so fruitful and suggestive that if you bring it on board, half your set and costume decisions have been made for you, and you know what your tone will be." (
Ebert, 2007
)
Blade Runner is certainly filmed like a Film Noir; the film takes place in a world of almost perpetual gloom, with most of the scenes occuring at night, usually in the rain. The only times the sun appears, it is filtered through so much smog and pollution that it serves mainly to cast an unhealthy yellow pall over the scene and cast long shadows. This yellow colour is primarily used to provide a distinctive visual motif for Dr Eldon Tyrell
(Joe Turkel)
, head of the Tyrell corporation, the company responsible for the creation for the replicants (the artificial humanoids which provide the antogonists of the film); this is in marked contrast to the rest of the film which is lit in shades of blue.
Fig 1. The Tyrell Corporation Buildings
Fig 2. Tyrell's Apartment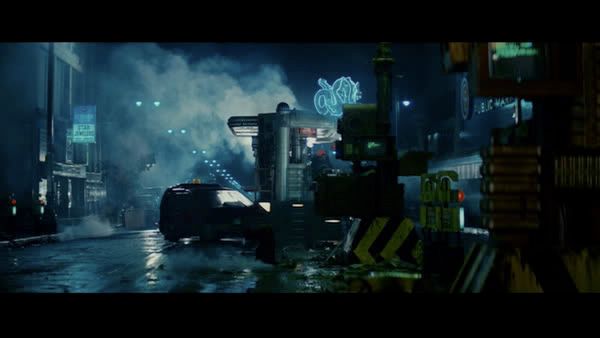 Fig 3. Downtown
In common with most Film Noir, much of the film occurs in the seedy underbelly of a city; however, as it is also a science-fiction universe, the underbelly aspect is physically embodied in the structure of the city, with the rich living in giant mega-structures that dwarf the crumbling 20th century structures in which the workers live. This undercity is literally overshadowed by the megastructures, to the extent that the primary source of illumination is from neon signs and giant, building sized electronic advertising screens that decorate the skyscrapers and hang from patrolling airships.
Fig 4. Police Spinner and Advert
Much of the"undercity" was filmed in real Los Angeles locations, and it is interesting to note that many of the locations used could have been used in "classic" Noir films, having been constructed before the 1950s; this, combined with costume design that wouldn't look too out of place in a "classic" Noir film helps to contribute to the Noir atmosphere. At the same time, the film also incorporates elements that would not be found in a classic Noir, such as the outdoor noodle bar and the numerous people on bicycles. Another important feature is the fact that the city looks genuinely "lived-in" due to a combination of weathering, retrofitted technology, and careful use of detritus and grime in the set dressing.
Although the protagonist Decker (Harrison Ford) is technically part of the police force, he acts more like the traditional Noir "Private Eye". He is unceremoniously summoned to police headquarters, has a mutually antagonistic relationship with normal police, and prefers to work alone. Although his job is to hunt down replicants, he starts a relationship with a woman he knows is a replicant (replace the word "replicant" with "criminal" and you have a classic Noir plot point.). At the same time, the antagonists of the film, the Replicants, are not traditional Noir villains; rather, they are science-fiction "bad guys", futuristic Frankenstein's Monsters that cause the audience to question their assumptions about right and wrong.
List of Illustrations
Figure 1. The Tyrell Corporation Buildings (1982) From: Blade Runner Directed by: Ridley Scott [Film Still] USA: Warner Bros. Pictures. At: http://i120.photobucket.com/albums/o165/cinquevolte/Blade%20Runner/Blade_Runner-1.jpg (Accessed on 07/01/2012)
Figure 2. Tyrell's Apartment (1982) From: Blade Runner Directed by: Ridley Scott [Film Still] USA: Warner Bros. Pictures. At: http://i120.photobucket.com/albums/o165/cinquevolte/Blade%20Runner/PDVD_568.jpg (Accessed on 07/01/2012)
Figure 3. Downtown (1982) From: Blade Runner Directed by: Ridley Scott [Film Still] USA: Warner Bros. Pictures. At: http://i120.photobucket.com/albums/o165/cinquevolte/Blade%20Runner/br11-1.jpg (Accessed on 07/01/2012)

Figure 4. Police Spinner and Advert (1982) From: Blade Runner Directed by: Ridley Scott [Film Still] USA: Warner Bros. Pictures At: http://i120.photobucket.com/albums/o165/cinquevolte/Blade%20Runner/bladerunner.jpg (Accessed on 07/01/2012)
Bibliography
Ebert, R (2007) Blade Runner: The Final Cut (1982) In: rogerebert.com [Online] At: http://rogerebert.suntimes.com/apps/pbcs.dll/article?AID=/20071103/REVIEWS08/71103001/1023 (Accessed on 05/01/2012)

Eldest and Only (2010) Production Design in BLADE RUNNER (1982) In: eldestandonly.com [Online] At: http://eldestandonly.com/2010/01/07/production-design-in-blade-runner/#more-835 (Accessed on 07/01/2012)

IMDb.com (2012) Blade Runner (1982) In: IMDb.com [Online] At: http://www.imdb.com/title/tt0083658/ (Accessed on 07/01/2012)

Smith, A (2010) Blade Runner: The Final Cut In: Empire.com [Online] At:http://www.empireonline.com/reviews/reviewcomplete.asp?FID=135282 (Accessed on 07/01/2012)